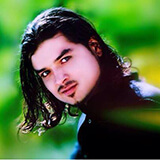 Farukh Ahmadi's Biography
---
Farukh Ahmadi has captured the hearts of his family and relatives when he was teenager and when he succeeded to reach in top 12 round of afghan star TV show he has blown up the juries with his magical voice. He has preformed the music and formed a style of his own which brings hope to young and old in Afghanistan.
Farukh Ahmadi was born on 20th of July 1987 in Kunduz Afghanistan. He started his musical career in 1998 at the age of 12. he has graduated from Sher Khan High school in 2005 in Kunduz city. After the overthrown of Taliban's regime in 2001 he has started to improve his singing activities and eventually he has participated in afghan star TV show and soon gained public fame.
In 2007 he has moved to Mazar-e-Sharif to study the bachelor in law program on Maulana University and eventually successfully graduated after spending the four years of his education. In 2008 he became an official student of Ustad Amir Mohd Khan, The Formidable and Unique Singer and composer of Mazar-e-Sharif.
Farukh made his debut song "Ishq o Safa" followed by another song "Ashqaye Dana Dana" and has caught a remarkable response. In 2011 Farukh Ahmadi brought something new, a rock music.(merave merave).
Alert:
Content is protected !!
---