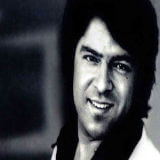 ---
خواب از چشمانم ربودی
ای بی وفا! بی وفا
قلب مرا تو شکستی
خودخواه بدخو چرا؟
زندگی بی تو بر من حرام است
ديگر ای آرزوی جوانی
چشم من کور اگر بعد از اين من
جز تو گيرم کسی را نشانی
عشق من پايمال فسون شد
ای فسون هوسها کجايی؟
ديگر آخر کجا شد؟ کجا شد؟
دوستی، عاشقی، آشنايی
---
Khwab az chashmanam raboodi
Ay be wafa! be wafa
Qalbe mara tu shekasti
Khod khawah bad kho chera?
Zendagi be tu bar man haram ast
Digar ay arezoye jawani
Chasme man khor agar bahd az ein man
Joz tu giram kase ra neshani
Ishqe man paymale fesoon shod
Ay fesoone hawas-ha kojaye?
Digar akher koja shod? koja shod?
Dosti, ashiqi, ashenayee
Alert:
Content is protected !!
---