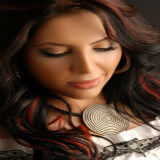 Ghazal Sadat's Biography
---
Ghazal was born in Kabul, Afghanistan. Both her mother and father are from herat. She's a simple afghan girl, and truly value and respect her religion and culture.
Ghazal is a Singer from Afghanistan with big selection of Pop music.
All of Ghazal life have loved and adored music. Even from early age she could recall singing along with music I would listen to. As she grew up, she came to appreciate the beauty and poetic nature of afghan music, with its impressive melodies and intricate rhythms.
Ghazal completed the secondary education in Istanbul, Turkey. From here her family and her immigrated to Canada. She continued the further education in Montreal, where she received the dental hygienist diploma. Currently she's working to obtain hair stylist and makeup artist diploma. The true passion is for music.
With a God gifted beauty, she is also gifted with a natural voice that perfects her for singing. Her songs are melodious and mesmerizing, her voice is soft and romantic. She believes that with the universal language of music people would start loving each other and promote peace and harmony. Ghazal resides in Dubai now and have extensive international tours around the globe for her concerts and stage appearances.
She is intended to step into experimental music now and her fans will see her with new surprises in times to come.
Alert:
Content is protected !!
---