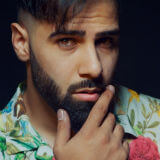 Massih Ahmadzay's Biography
---
Massiullah Ahmadzay, compassionately known as Elyase, and popularly known as Massih is a creative and multi-talented individual. He is a singer, film director, and camera operator who finds delight in staying unique in his endeavours while seeking a more profound path to his success. Originally from Logar, Massiullah was born in Kabul, Afghanistan in 1991. He was born into a family of four, three brothers and a sister, he lived in Karte Parwan and spent over a decade of his life in Kabul. His father, Masudullah Ahmadzay, worked for the secretary of the former president of Afghanistan, Dr. Najibullah Ahmadzay. At the age of 10, he relocated from his beloved country to London, UK in 2002 due to the war between the Taliban and the government. On relocating to the UK, he started high school and graduated from Harrow college in 2013 with a Level 3 National Diploma in Airports and Management. He also gained his level two Mechanical Engineering diploma from Uxbridge College in 2009. He has always been an avid learner and strives to put to practical use his acquired knowledge.
Over the years, his paths have always gone beyond the traditional way of learning but also arts and extracurricular activities. During his time in school, he was attending martial art classes and have participated in over ten sparring competition full body contact. Growing up, he always wanted to showcase his creative prowess and express himself. He nurtured his talents for both filming and music at this tender age but did not fully tap into them. After his formal education years, he decided to put his qualifications aside in pursuit of his dreams. He started singing and making videos for his social media accounts including Youtube and Instagram. As a musician, he also performed at several concerts and taking instruments lessons before finally becoming a singer in 2010.
Massiullah is a singer, musician, instrumentalist, and inspiring songwriter. He brings a more refined approach to his craft, making him unique. He takes music as a career and goes beyond entertaining people but passing a message to them. Massiullah creates timeless, unique, and relatable songs for his audiences to enjoy.
As a singer, He believes solely in creating an impact and setting a pace. Rather than entertainment, his sound and music are unique, building a platform for people to express the love and appreciation they have for others. However, he uses his music as a means to share his life experiences and exposure for others to learn, relate, and cope with their situations. He is a keen lover of music and is committed to dishing pleasant and engaging music to his listeners. Professionally, when he sings establishes a good connection with his audiences through joyful music. His music is a blend of rhythms, philosophies, and lyrics typical of the journey, building an intimate platform to share his perspectives with his listeners. Music has always been an intrinsic part of him and he looks forward to showcasing his unique talent through the power of his voice to the world.
Massiullah's experience in music, filming, and other segments of the entertainment industry have earned him a stellar reputation amongst colleagues, viewers, and listeners. He is in the business of giving his audience a pleasant listening and viewing experience. As a talented filmmaker and director, he believes in creating videos that are appealing to the mind and eye. Massiullah was the first Afghan who created Afghan version of the 'Spanish Despacito' music video in Afghanistan. This video earned him appraisal and also received over a million views on YouTube and on other social media platforms. However, it got thousands of comments under the video comment section and went viral all over the social media. Even as an independent filmmaker, he still seeks to establish a great connection with his viewers. He is passionate about good visuals, excellent photography, and also conveying the essence of business through videos. Furthermore, he strives to infuse his unique and creative perspective to capture the essence and depict real beauty of each specific subject, highlighting their best and exclusive qualities.
Massiullah is also passionate about bringing the arts to life. He captures the essence of both industries into a coherent whole, further giving him a boost to hone his talents. A lifelong learner, with his passion in both fields, he seeks to stay abreast with latest trends in these industries continually. He prides himself on experimentation and research wielding a more excellent approach to growth in his work. For him, he focuses on giving audiences and viewers a different feel than they have experienced through his works. Massiullah's creativity across the fields of music and filming is extraordinary. He uses both fields as a means to express himself artistically. He is a promising talent and looks out to become one of Afghanistan's brilliant musicians and filmmakers.
With great love for both film making and music, he desires to emerge as a pacesetter in both industries. For this reason, he spends a great deal of time to carve out a unique niche for himself to stand out. In an ever-evolving film making industry, he identifies the need to stand out, thereby tailoring his services to match individual taste and specification. As a musician, he desires to be as professional as possible, creating excellent and pleasant music for a wide range of listeners across the globe. Massiullah is a hyper-creative and artistic individual with a heart to succeed. He aims to become an industry leader in the mainstream entertainment industry as both a singer and film director.
Alert:
Content is protected !!
---